The New Rules of Golf - 2019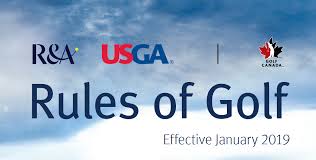 The new, modernized Rules of Golf have been finalized and released by the USGA and R&A, and will go into effect at the beginning of 2019. The majority of changes are designed to make golf quicker and the rules easier to understand, with the number of rules been streamlined to 24 rather than the previous 34.
The R&A have published the below documents to help you understand the new changes so please meke yorself familiar with them to avoid any confusion;
Top 20 Rules changes you need to know
In January when the scorecards are changed to reflect the new yardages and Stroke Index you will find the new local rules on the back of the card. In the meantime they will be displayed in the Golf Shop from January 1st.
We have taken delivery of a number of new rules books which will be available in the Golf Shop from Wednesday.